Sound Toggle
By default, sound for scanning will be turned on. To turn it off, click the sound button at the top of the screen near your name.

Beep = Successful scan
Bonk = Unsuccessful scan. Try again or add manually
Bling = All quantities have been successfully been assigned
Scanning
To allow you to be more efficient when sorting your items into boxes and providing box level content to Amazon, we also include the option to scan the FNSKU on each item or the manufacture barcode for commingled items to assign it to a box.
First, click the Scan to Pack button in the lower right of the screen.

A modal will pop up where you can select the shipment you would like to pack in the dropdown box. You will see that your first box, ending in U001, is already created for you. If you need additional boxes, click the +New button to create them.
You will also see the Available items that should all be included within the selected shipment.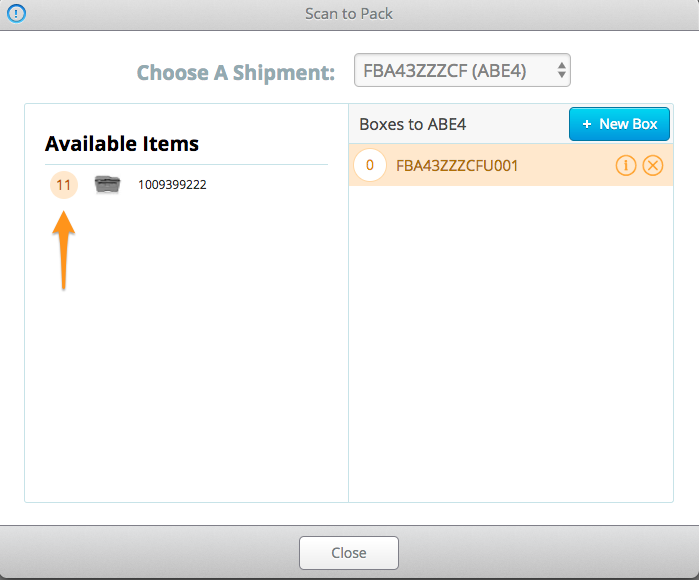 To change shipments, simply click the dropdown box and choose the shipment you would like to pack.

Once you have the shipment you would like to use, click the "i" icon and the "barcode start" button on the box you are packing to start scanning for that box.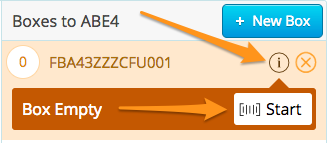 You will notice that the Start button has now become a Finish button and the system is currently "Listening" and waiting for you to scan.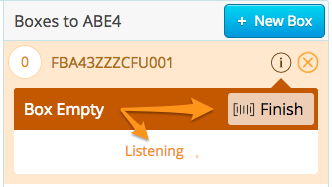 Once you scan your item, you will see that a quantity of 1 has been added to your box. As you scan more of the same item, the quantity will increase.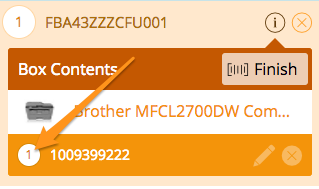 Alternately, you can manually increase the amount by clicking the pencil button.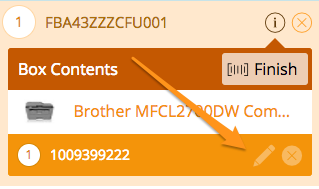 Change the quantity and click the check box.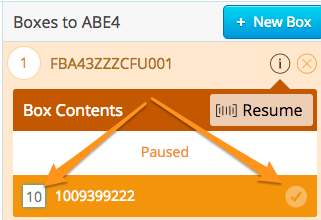 Once you are finished scanning, simply click the Finish button.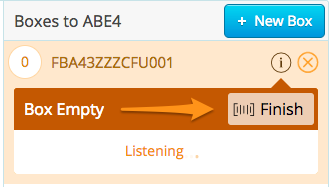 If you need a new box, click the "New Box" button and repeat the previous steps for your next box!