Entry Point Settings
Entry Point settings allow you to choose the page you want to start on after you login. For example, if you frequently log in to use the List page, we would recommend choosing List as your entry point. This will bypass the Dashboard and take you straight to your desired page after login.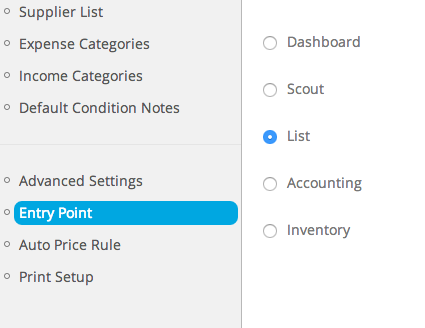 Field Defaults
You can setup field defaults so that your entries while using List will carry over from the last save. This setting is powerful if a lot of your products have similar data. For example, if all or even most of your conditions are "New" you will want to set Condition to default from the last saved entry. Using this setting will allow each product after your first save, to automatically populate the "New" condition, allowing for maximum efficiency.
You can access this section by visiting Settings>Advanced Settings