If you use the Reminders feature, you will be notified as each item approaches the date you set.
When clicking on the envelope, you'll be taken to the notifications page. Here, you'll see the total number of reminders and updates available – almost like your email inbox.
If you have any reminders, just click on the Reminders option on the left to see a full list of items you wanted to be notified about.

Managing Your Reminders
Managing your reminders is done in your Inventory tab. You will need to click on the drop down next to "Accounting" to switch to the "Management" view.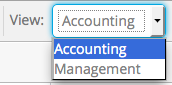 In Management view you can add, edit or delete reminders on any MSKU.

After making the edits, click "Save"