User ID Security Permissions/Rights: This is the configuration for User Security.
Security Rights
Administrator: "Administrator" indicates the level of security this user will have.
"Full Administrator"
This option indicates the user has:

Full access to all administration functions (billing, forms, staff, and shared access – detailed below in the Restricted Administrator privileges)
Ability to add/change/delete users and modify security permissions for a user
Ability to change items in the Organization Preferences screen


Image: "Security Full Administrator"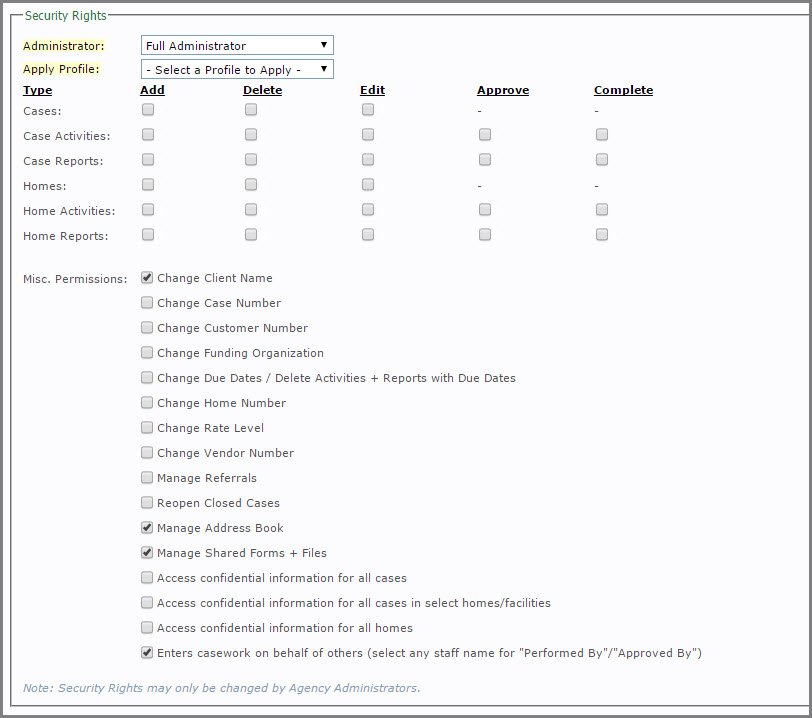 "Restricted Administrator"
This option indicates the user has limited access to one or more administrative functions. (but not the ability to add/change/delete users or modify security permissions for themselves or another user)
From here, you can select one or more of the following:
Billing Administration

Accounting staff
Can generate days care billing and accounts payable batches
Can add/change/delete days care billing rate sheets
Can create and post client charges, payments, and adjustments (if "Aging" module enabled)

Forms Administration

Support Staff who might create new or change templates
Can manage Activity Types/Report Types/Print Templates
Can manage Email Alerts
Can manage Scheduled Trainings
Can manage Foster Family Website content

Staff Administration

HR who see personal information related to employees
Can add + edit Staff Records (not User ID's), access personal staff data, expiration dates, add staff training and documents)

Shared Administration (available only to agencies that are set up as multiple organizations in extendedReach)

Can access linked/shared organizations
For example: both foster care/residential – if your agency is configured as such
Any additional restricted admin capabilities granted to this user (e.g. billing admin, forms admin, and staff admin) are also available within shared organizations
Image: "Security Restricted Administrator"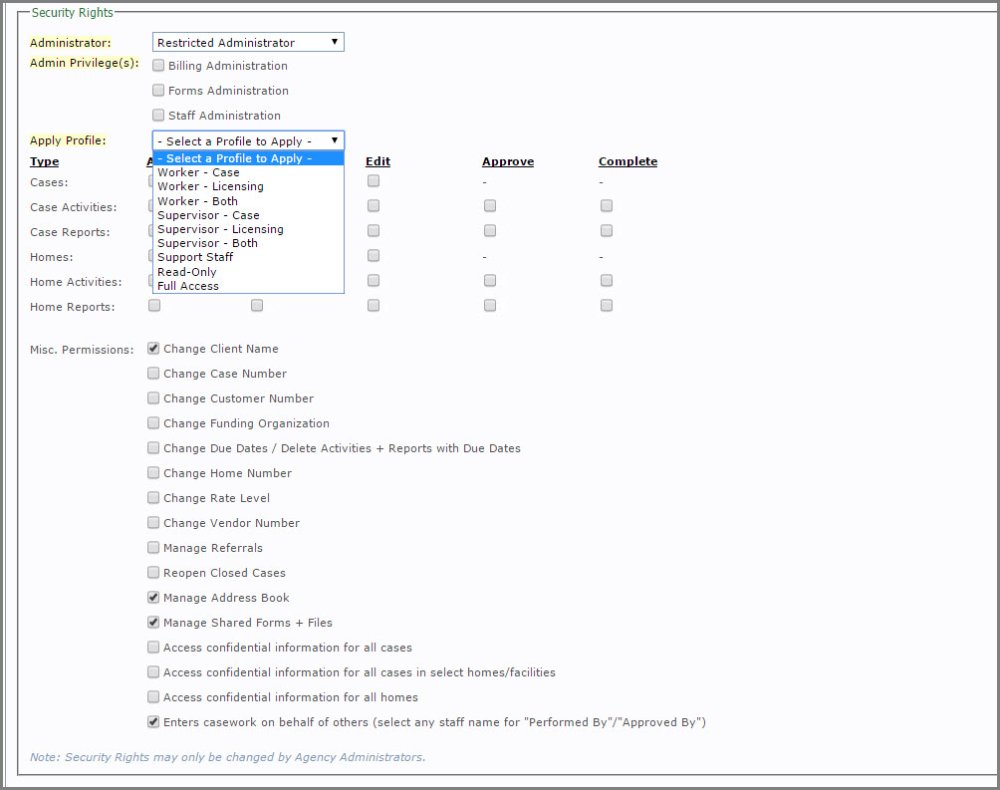 "No"
This option indicates the user has no access to any administrative functions (security, billing, forms, staff, shared access).
Image: "Security Not Administrator"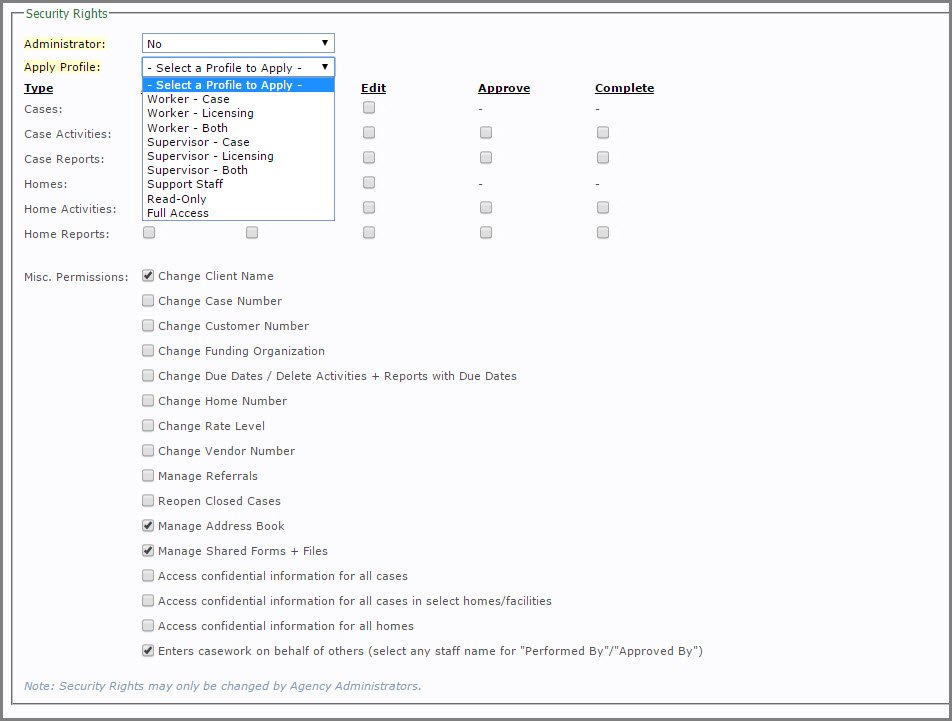 You can select a profile for this user, which will then auto-populate the roles that user will perform. You are able to then adjust the selections by checking or un-checking roles.
Miscellaneous Permissions
You are also able to adjust "Miscellaneous Permissions" for the user you are adding, if you wish.
Change Client Name" (change client first, last, middle, aka name)
Change Case Number (change system assigned case #)
Change Customer Number (change customer # – usually associated with accounting system)
Change Funding Organization (change the referring organization/county that is paying for case)
Change Due Dates / Delete Activities + Reports with Due Dates (modify the due date on the activity / report screen or delete an activity or report that has a due date)
Change Home Number (change system assigned home #)
Change Rate Level (change case rate level paid for days in care)
Change Vendor Number (change vendor # – usually associated with accounting system)
Manage Referrals (add/change/delete case referrals)
Undo/Modify Discharge on Cases and Homes (when a case or home is discharged can the discharge be undone or the reason for discharge modified)
Manage Address Book (add / change /delete address book entries under Resources)
Manage Shared Forms + Files (add / change / delete shared forms and files under Resources)
Enters casework on behalf of others (select any staff name for "Performed By"/"Approved By") (ability to select someone other than their own name when clicking Submit/Complete) Click here for more details.
If this box is checked on Organization Preferences:
Image: "Adding User ID: Security Settings Screen"


"System: Hide confidential information (case notes and file attachments) from staff not associated with case/home"
The above option restricts the ability for workers and supervisors not associated with the case/home (or a particular activity/report) from viewing details about the contents of activities/reports.
The following additional options allow the above functionality to be refined even further:
Access confidential information for all cases
(Access all activities and report detail for all cases regardless of association with case)
Access confidential information for all cases in select homes/facilities
(Ability to access confidential information for a case when it is placed in particular home (regardless of association to case or home))
Restrict access to select case activity and report types
(block access to certain activity and report types – regardless of association to case – i.e. "Therapy Notes")
Access confidential information for all homes
(access all activities and report detail for all homes regardless of association with case)
Image: "Adding User ID: Security Permissions Screen"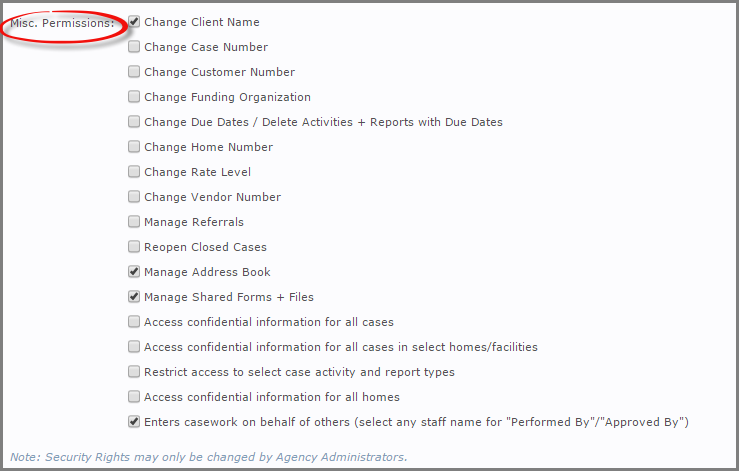 Next Topic Security Groups →