Content
FAQ

s
Introduction
This article is meant to assist your agency with the extendedReach Side Menu Administration.
If you have a question not addressed here, you can search at the bottom of this article in
Related Topics or you can Contact Support.
Explanation and Purpose of the Side Menu Administration
extendedReach is organized in a manner that allows you to easily access information with the Side Menu providing "Views" of comprehensive agency-wide data for users. The "Views" in the Side Menu are configured through the Administration section of the Side Menu.
Side Menu Administration Access
Go to "Administration" where you will find Organization Billing, Organization Settings, Program Settings, and System Settings.
Image: "Side Menu Administration Access"


Organization Billing
Image: "Side Menu Admin: Organization Billing"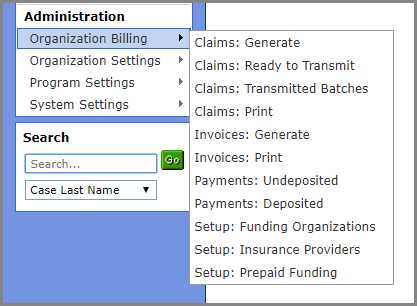 | Field Name | Description |
| --- | --- |
| Claims: Generate | |
| Claims: Ready to Transmit | |
| Claims: Transmitted Batches | |
| Claims: Print | |
| Invoices: Generate | |
| Invoices: Print | |
| Payments: Undeposited | |
| Payments: Deposited | |
| Setup: Funding Organizations | |
| Setup: Insurance Providers | |
| Setup: Prepaid Funding | |
Organization Settings
Image: "Side Menu Admin: Organization Settings"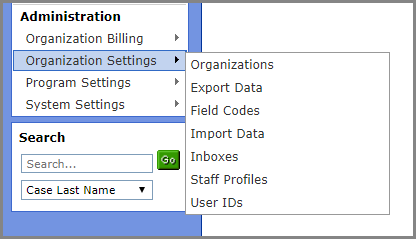 | Field Name | Description |
| --- | --- |
| Organizations | |
| Export Data | |
| Field Codes | |
| Import Data | |
| Inboxes | |
| Staff Profiles | |
| User IDs | |
Program Settings
Image: "Side Menu Admin: Program Settings"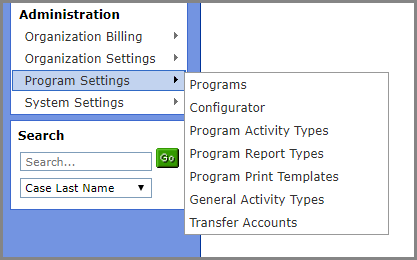 | Field Name | Description |
| --- | --- |
| Programs | |
| Configurator | |
| Program Activity Types | |
| Program Report Types | |
| Program Print Templates | |
| General Activity Types | |
| Transfer Accounts | |
System Settings
Image: "Side Menu Admin: System Settings"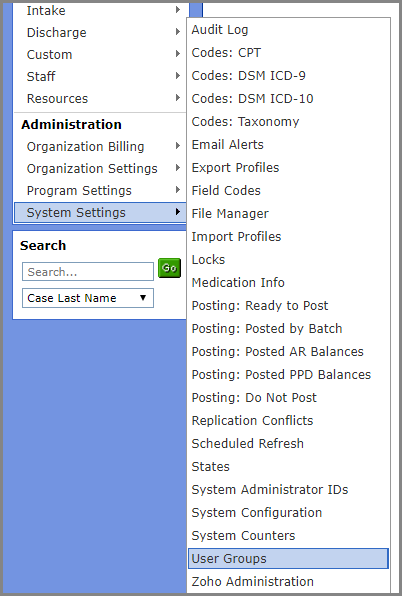 Field Name
Description
Audit Log
Codes:

CPT

Codes:

DSM

ICD

-9
Codes:

DSM

ICD

-10
Codes: Taxonomy
Email Alerts
Export Profiles
Field Codes
File Manager
Import Profiles
Locks
Medication Info
Posting: Ready to Post
Posting: Posted by Batch
Posting: Posted AR Balances
Posting: Posted

PPD

Balances
Posting: Do Not Post
Replication Conflicts
Scheduled Refresh
States
System Administration IDs
System Configuration
System Counters
User Groups
Zoho Administration
Related Topics
Next Topic Agency Administration: User IDs and Staff →