Content
Introduction
This article is meant to assist you with adding a case.
If you have a question not addressed here, you can search at the bottom of this article in
Related Topics or you can Contact Support.
Adding a New Case from Workspace
Hover over the "Add Case" button on the action bar on your workspace, and select a program.
Image: "Add Case" Screen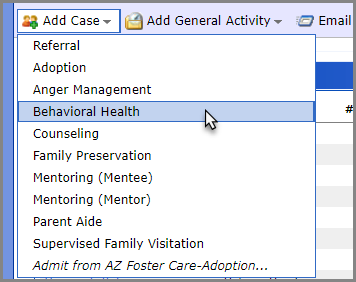 Complete the fields and be sure to save your work. Please see our Case Screen articles, for more information.
Admit from Foster Care.
(You must have a Foster Care module in extendedReach for this to function).
Image: Admit From Foster Care

Accept a pending referral.
Image: "Accept" Referral


Readmit a closed case.
(A new case will be created.)
Image: "Readmit" Case


Related Topics
Next Topic Case Screen: General Tab →