Summary values are included on the same report as the forms due lists. Each center will be held accountable for completing 90% of forms for multiple categories. If a center fails to achieve 90% in any of these categories by the end of the day prior to the close of the trimester, they will be considered failing CPI for that trimester. There are twelve total categories, including three HCT product types and CT forms at each of three time periods.
The product types are divided into three categories:

Allogenic Related (Allo_R)
Allogenic Unrelated (Allo_U)
Autologous (Auto)
Cellular Therapies (CT)


The time periods include forms with the following earliest complete dates:
1. Forms with a date that fell in the most recent trimester:

January Trimester closing December 31st at 11:59 P.M. Central includes forms with an earliest complete date of May 1 – August 31
May Trimester closing April 30th at 11:59 P.M. Central includes forms with an earliest complete date of September 1 – December 31
September Trimester closing August 31st at 11:59 P.M. Central includes forms with an earliest complete date between January 1 – April 30


2. A full year prior to the most recent trimester
3. All other forms due which centers are held accountable:

Allo_R, Allo_U, and CT
Auto, events 12/3/2007 and later


Summary percentages reflect a total count of forms. Forms are considered complete if they are in AUD, CMP, LCK, and PND as these do not require center action (effective May 1, 2018). The summary report includes the following information for each of the required categories:

Total #, includes the total number of forms which have been completed or are yet to be completed. Forms in

LTF

(lost to follow-up),

SUR

(survival), or

NRQ

(no longer required) statuses are excluded from this count.
Due Forms, these are forms in

DUE

,

QRY

,

SVD

,

ERR

, and

MOD

status with a complete date that falls after the end of the Trimester (Midnight Central prior to the trimester date).
%Complete, these are the summary values your center is accountable for, all of these values must be above or equal to 90. They are calculated by taking (Total # – Due forms)/Total #. Please note, these values do not get rounded.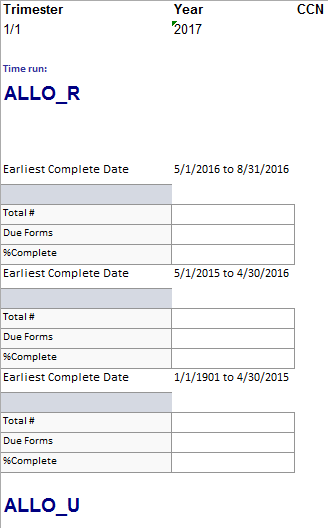 Feedback
Thanks for your feedback.