Summary
Sometimes you cannot avoid "Split Shipments" when most of Amazon's fulfillment centers are running towards full capacity (ex. textbook season in Aug.). Here is a strategy that you can apply in TurboLister to minimize the impact of split shipments to your shipping workflow and cost.
Solution
Even with serious split shipments, Amazon still tends to ship most of your items to a handful of fulfillment centers because these fulfillment centers have the most capacity at the moment. You will quickly find out what those major fulfillment centers are because we sort fulfillment centers by shipment weight. In the screen below, you can see Amazon assigns 86 items to 18 fulfillment centers, a very serious split shipments issue. There are 4 major fulfillment centers in the area (1): PHX6, SMF1, BWI2, MSP1 and there are 14 minor fulfillment centers in the area (2)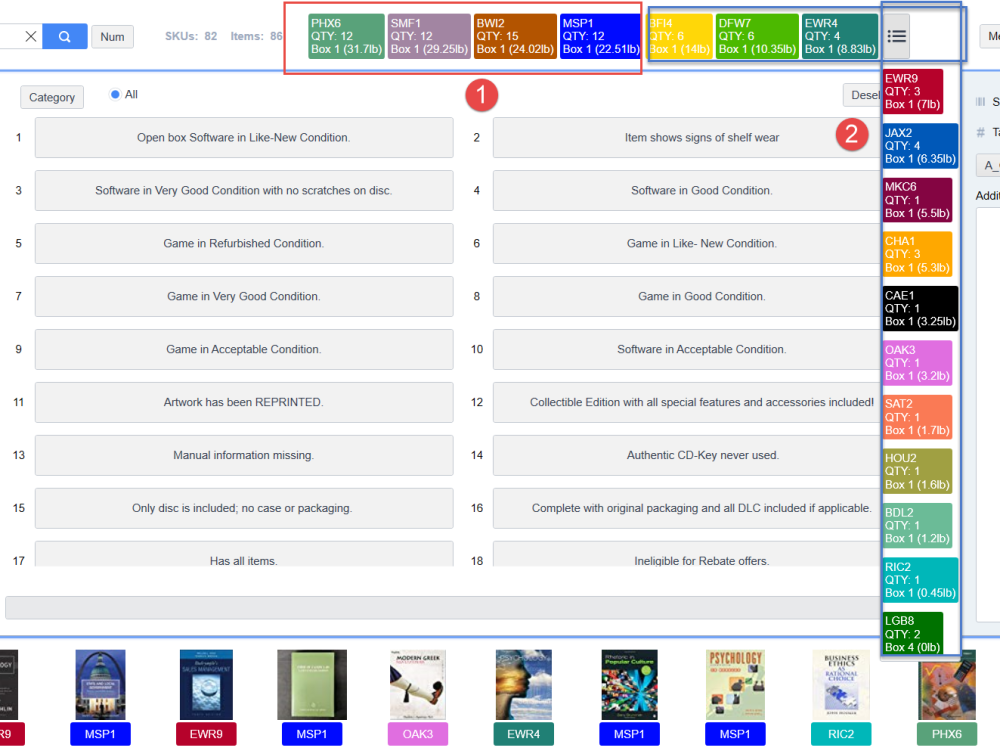 The 4 major fulfillment centers already have weight at least 20 lbs, so they are very likely to hit 40 to 50 lbs (the optimal shipping weight) first. We set up 4 boxes for these 4 fulfillment centers and put books in.
The books for 14 minor fulfillment centers will be put together into one single box for trying the reassignment later.
It is very likely that Amazon will reassign the item to a different fulfillment center after 24 hours based on its fulfillment centers capacity. So during the next day, you can scan the

FNSKU

labels of those items from the 14 minor fulfillment centers into TurboLister. If Amazon reassigns it into one of the 4 major fulfillment centers, you can click "Accept" and a new

FNSKU

label will be printed out. You attach the new

FNSKU

label and put the item into the corresponding box of the fulfillment center it reassigns to.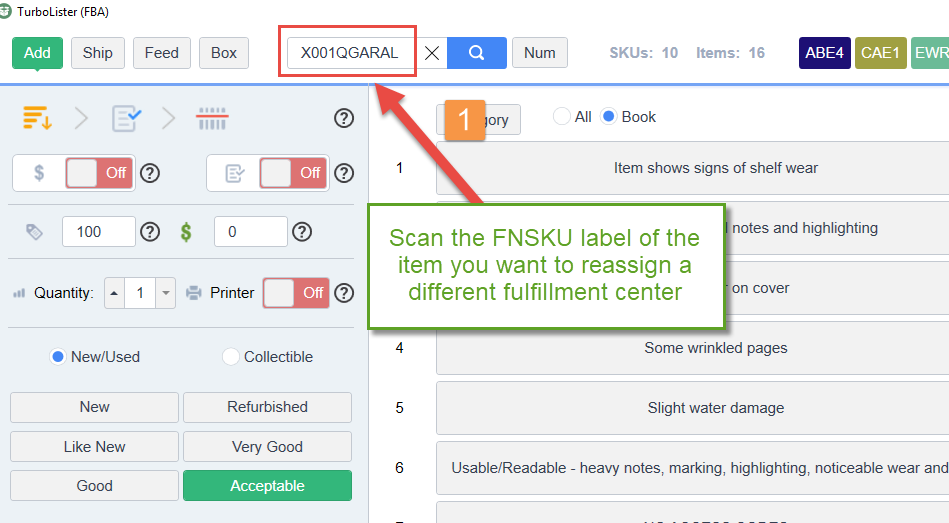 Repeat step 4 till a major fulfillment center has enough items to ship, then create a shipment to that fulfillment center.
It is possible that some items will never be assigned to your major fulfillment center after trying to reassign for 1 week. In that case, you can choose to ship these few items to the minor fulfillment center.
Feedback
Thanks for your feedback.