After the program starts, click Menu -> Settings to bring up the Settings screen.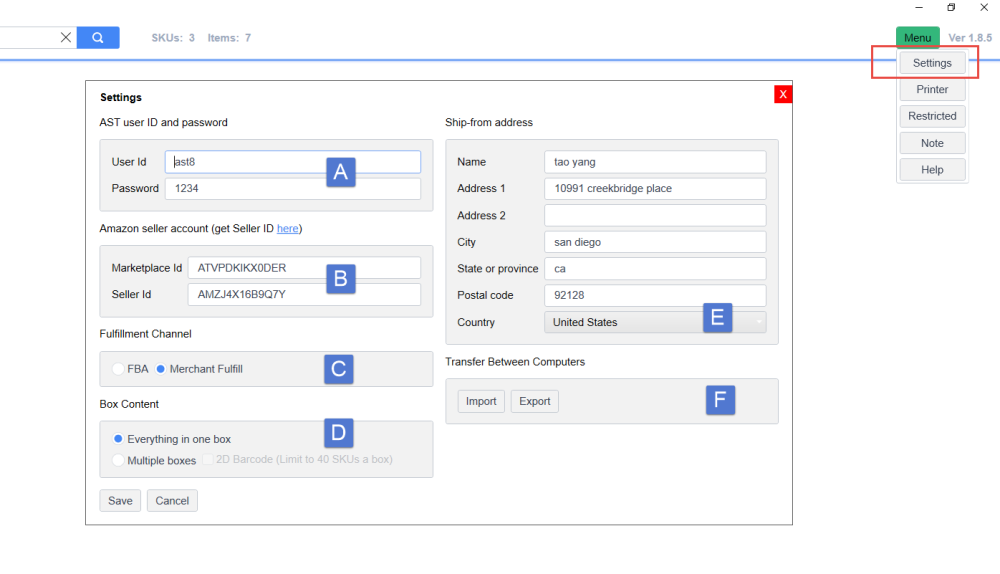 A: AST User ID and password: You need to use the same user ID you used to sync your MWS account with ASellerTool.
B: Amazon Seller ID: If you are a US seller, use ATVPDKIKX0DER as Marketplace ID. You can find your seller account ID here.


C: Fulfillment Channel: Choose to list your items as FBA or MF. You can switch between the two.
D: Box Content (FBA only): If you ship everything in one box, you can skip it. If you ship multiple boxes in a shipment, Amazon requires you to provide box content information for each box. You can choose to use the 2D barcode to show box content.
E: Ship-from address (FBA only): Specify the address where you ship the FBA items from.
F: Transfer Between Computers: Click "Export" to backup your settings and work into a .json file. Click "Import" to retrieve your backup. The backup file is also where we can help you troubleshoot.
Feedback
Thanks for your feedback.