After program starts, click Menu -> Settings to bring up Settings screen.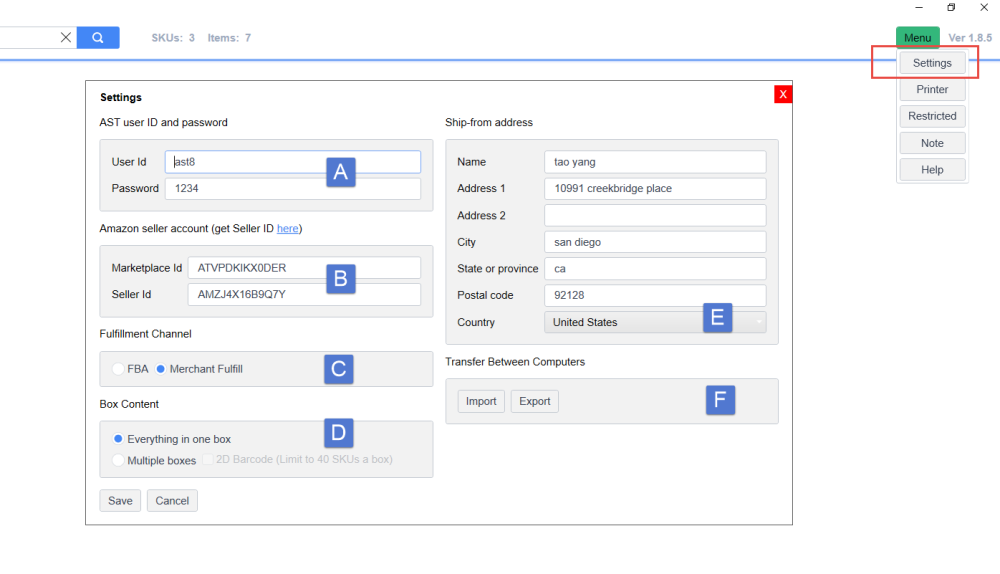 A: AST user ID and password: Use the user ID and password when you sync with ASellerTool your MWS account.
B: Amazon seller ID: If you are a US seller, use ATVPDKIKX0DER as Marketplace ID. You can find your seller account ID here.


C: Fulfillment Channel: Choose to list the next items as FBA or MF. You can switch between them. Ex. If it is set to FBA, but you want to list next items as MF. You can change it to MF, then start to list those items. After you finish, you change it back to FBA.
D: Box Content (FBA only): If you ship everything in one box, you can skip it. If you ship multiple boxes in a shipment, Amazon requires you to provide box content information for each box. You can choose to use 2D barcode to show box content.
E: Ship-from address (FBA only): Specify the address where you ship the FBA items from.
F: Transfer Between Computers: If you install this software in a new computer or make a backup, you can Export your settings and current work into a file, and Import that file into your new computer.
Feedback
Thanks for your feedback.