Profit trigger is the latest trigger in this app to help the seller to find whether the item is a 'Buy' or a 'Reject' based on profit and important factors such as Sales Count, Rank, Number of Offers, FBA, Used, New, Amazon, Buy box Price. It will play a customized sound and display a message based on the result.
Profit Trigger List Screen
Tap at the trigger number (A) to enable/disable this trigger.
Tap the Reset button (B) to reset all Profit Triggers to the default.
Tap trigger summary (C) to edit this trigger.

Edit a Profit Trigger
How soon this item will get sold. You can use "Days with Sales" (D) or "Sales Rank" (E) to determine.

Days with Sales: Number of days this item has sold at least one copy during that day for the past 6 months.
Sales Rank: Amazon proprietary algorithm to indicate when the item was sold last time. We recommend you enable "Use Average Sales Rank" (F), so you have an idea how quickly this item was sold during the past 6 months.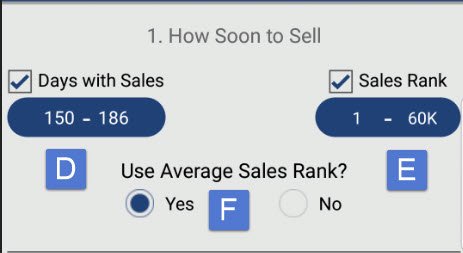 Consider max number of offers or minimum price for this trigger to signal a buy or not.

Max Number of Offers: If you want to pass an item with too many sellers, disable "No Limit" (H), set a max offer number for a condition (G).
Minimum Price: If you want to pass an item with a very low price, disable "No Limit" (I), set your minimum accepted price(J).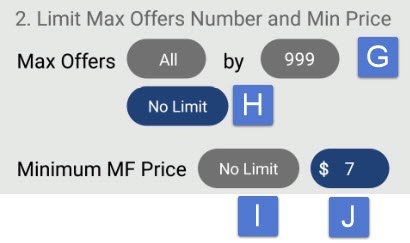 3. Choose the lowest price by selecting the listed offer position. The Offer Position will be used as the targeted price.

4. Then select your options to compare the target price with Used Buy Box.

5. Select your option to set the target price to be either the Amazon Price or the New Buy Box Price, based on the discounted percentage value.

6. Set the profit value based on either FBA or MF and modify the color, sound and message you wish to receive for this trigger.

How the Profit Triggers Work
Based on (A), the app will select an offer's profit from the item's available offers.
The app will start by checking the trigger of the first row. If the selected offer of this item's criteria is >= the sales count and/or sales rank (C), falls within the parameters set by the targeted price (E-G) and the profit is >= the value (H) in the first row, then this trigger will signal the item as 'Buy',
If this profit trigger cannot signal 'Buy', the app will check the profit trigger of the next row.
The app will repeat this process until either a profit trigger signals this item as 'Buy', or it goes through all the selected profit triggers. In that case, the app will signal this item as 'Reject'.
Feedback
Thanks for your feedback.