There are many salons that have already being created by other users. If you enter your 3 areas of interests, then you will see some recommended salons. You may not want to join any of those salons, but if they are public, (without joining) you can view how those salons are been used. You can also search for salons to find public/private salons.
Joining a recommended Salon
Based on your areas of interest, you should see at least 3 salons that are recommended for you. If you do not see recommended salons, please edit your profile to add some interest areas and refresh the browser to see recommendations. The recommended salons are shown as below.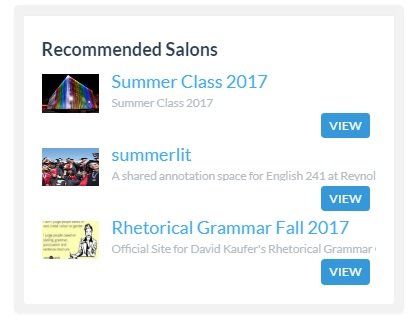 Finding a Salon by Searching
Another way to find a salon is to search using the global salon search bar shown at the upper left of the browser window as shown below. Type a name (or partial name) of a salon and find all salons that matches the search results.



The search results (partial) for "computer" is as shown below. Click on any salon, and subscribe or view.


Feedback
Thanks for your feedback.