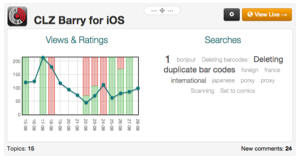 Some of our clients are using Manula to manage a lot of manuals. And frankly, for those users the home of the Manula admin system was becoming a bit messy. So this week we redesigned that admin home page, plus the live home page of your manuals:
The Admin Home page now uses a two-column layout, with fixed height panels for each manual.
The manual panels can now be re-ordered by grabbing the drag-area and dragging the panel to a different spot. This order is then also used on the home page of your live manuals.
The Search Term "clouds" are now limited in the numbers of terms displayed and have been tweaked to better show the most popular search terms.
Each manual panel now show the number of topics on the bottom right.
The Unmoderated Comments are now listed bottom right in the panels.
The Live Home page also uses a two-column layout now.
Here's some screen shots for one the largest Manula accounts:
Read more →