If Reverse DNS is not set up, some receiving mail servers may use this as an indication of a possible spam source in a scoring system. Most will not reject incoming mail solely on this basis. We recommend that you contact your ISP and ask them to setup a reverse (PTR) record that matches the domains (hostnames) you use on your Starkit.
What is reverse DNS?
Reverse DNS refers to translating the numeric addresses of a website (i.e. the IP address) to the domain/host name, as opposed to the forward DNS process which translates the domain/host name to the IP address. Reverse DNS refers also to locating which domain name/host belongs to a given IP address, that is why this process is often referred to as Reverse DNS Lookup. When a domain name has a valid reverse DNS, it can also be accessed by just using the IP address.
What does reverse DNS do?
Why would you need a reverse DNS set up for your Starkit? Reverse DNS is one of the basic requirements for running a mail server. It is often used as a spam filter to determine whether the IP address of the incoming message matches an authenticated domain name, and to block the message if it doesn't. If you don't set up Reverse DNS for your mail server, messages sent from your mail server will be blocked by some major email services (i.e. Outlook.com).
How to set up Reverse DNS
Set up Reverse DNS on your own host — Some ISPs may delegate a portion of the zone to you so that you can host your own reverse DNS. You can configure Reverse DNS by determining PTR records in a DNS server. PTR records are managed by the entity that controls the IP address assigned to you. It may be either your host or yourself, if the host has delegated the Reverse DNS for your IP space (containing one or multiple IP addresses) to you. A PTR record usually represents the IP entered backwards, followed by an in-addr.arpa entry.
What you should do?
Contact your ISP who provides internet access to your Starkit and send them the following information:
a. Your Starkit public domain.
b. Your Starkit public IP
Ask them to set up Reverse DNS for your IP. This information should be enough for your ISP to do the job. Once Reverse DNS is set for your Starkit domain, then it will work for any domains you add later, so you don't have to do this process for any additional domains you will use with your Starkit.
Your Starkit public domain is the one you created when you set up your Starkit. Here is how to find your Starkit public domain and your Starkit Public IP:
1. Click the option My Starkit on the left accordion menu
2. Click the option About
In this page you will see the information about your domain and public IP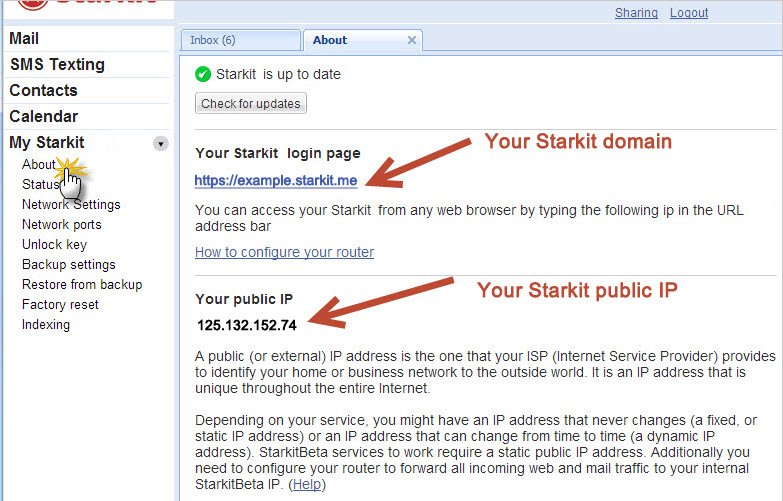 Feedback
Thanks for your feedback.