This guide will help you install Starkit on your computer by using a USB memory stick. USB memory sticks are sometimes known as flash drives, memory pens or USB Mass Storage devices.
Installing from a memory stick is useful if you have a computer without a CD drive, or prefer the convenience of a memory stick.
It should take around 30 minutes to complete this process, plus the time it takes to download the installer file.
What do I need to get started?
To install Starkit from a USB memory stick you need:
A memory stick with a capacity of at least 2GB. It will be formatted (erased) during this process, so copy any files that you want to keep to another location. They will all be permanently deleted from the memory stick.
A computer that can boot (start-up) from a

USB

memory stick. Many older computers can't boot from

USB

– check the boot options in your

BIOS

to see if yours can.
A computer with at least 8GB (or 16GB recommended for best performance) of system memory (

RAM

), 100 GB of available hard disk space and an Intel Dual/Quad-Core

CPU

s >2GHz processor.
A working Internet connection.
Get a copy of the Starkit installer
You need a copy of the Starkit installer CD image (.iso) so that you can put it on a memory stick.
Go to http://www.starkitsystems.com
Click the download button to download the .iso image file needed to install Starkit. This will be about 900MB in size.
Create a Starkit bootable USB memory stick using Windows
Plenty of software available, our favorite is rufus from http://rufus.akeo.ie/
Go to http://rufus.akeo.ie/ and download Rufus. Put it on your Desktop or somewhere convenient.
Start Rufus and select your

USB

device using the drop down on the top. Any

USB

drives you have plugged in to the computer should automatically appear in the Device drop down menu at the top. You can plug in a

USB

stick and it will find it after a couple of seconds-without you having to restart the program.
Leave every other option as it is.
Make sure the check-box saying Create a bootable disk using

ISO

image: is checked and click the little button on the right of it to choose your Starkit

ISO

image that you have already downloaded on your computer from http://www.starkitsystems.com/download.html.
Now you can click Start and your

USB

drive will be formatted and the

ISO

should be extracted to it.
When it has finished, close the Rufus window and safely remove/eject and unplug your memory stick. This is necessary to make sure all of the files were put on the memory stick properly.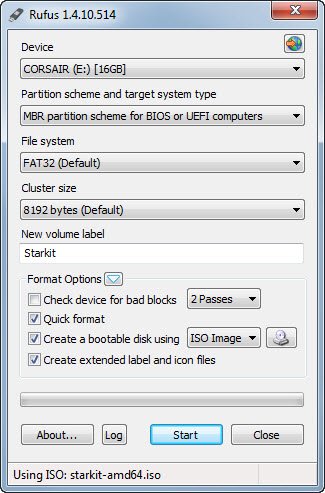 Create a Starkit bootable USB memory stick using Mac
Open terminal
Run diskutil list to get the current list of devices.
Insert your

USB

stick.
Run diskutil list again and determine the device node assigned to your flash media (e.g. /dev/disk2).
Run diskutil unmountDisk /dev/diskN (replace N with the disk number from the last command; in the previous example, N would be 2).
Execute sudo dd if=/path/to/starkit.iso of=/dev/diskN bs=1m
Create a Starkit bootable memory stick using Linux
Insert the

USB

memory stick into you machine
Identify where the disk is mounted by running the command lsscsi in your terminal.
Run the following command we are assuming that you have identified the

USB

memory stick as being mounted on dev/sdb sudo umount /dev/sdb
Then run the following command where you specify if=location of downloaded iso and of=location of usb stick sudo dd if=/opt/starkit-new.iso of=/dev/sdb
Example:
lsscsi
[0:0:0:0] disk ATA TOSHIBA MK3255GS FH41 /dev/sda
[1:0:0:0] cd/dvd HL-DT-ST DVDRW GA32N KC08 /dev/sr0
[2:0:0:0] disk SanDisk Cruzer Fit 1.26 /dev/sdb
sudo umount /dev/sdb
sudo dd if=/opt/starkit-new.iso of=/dev/sdb
Feedback
Thanks for your feedback.