If you want to try Starkit but didn't have a spare computer to run it on? This tutorial will show you how a virtual machine like VirtualBox will let you play with other operating systems without having to change what's on your computer right now. The tutorial will cover how to install VirtualBox and set up your first virtual machine, and walk you through an installation of Starkit.
Get a copy of the Starkit installer
You need a copy of the Starkit installer CD image (.iso) so that you can put it on a memory stick.
Go to http://www.starkitsystems.com
Click the download button to download the .iso image file needed to install Starkit. This will be about 900MB in size.
If you don't have VirtualBox installed, you can download the latest version of VirtualBox. Go the VirtualBox website and go to the download section. Here is the link
https://www.virtualbox.org/wiki/Downloads
There are versions available for Windows, Mac, and Linux. Select the one operating system you're running, download the Windows version at the top by clicking "x86/amd64".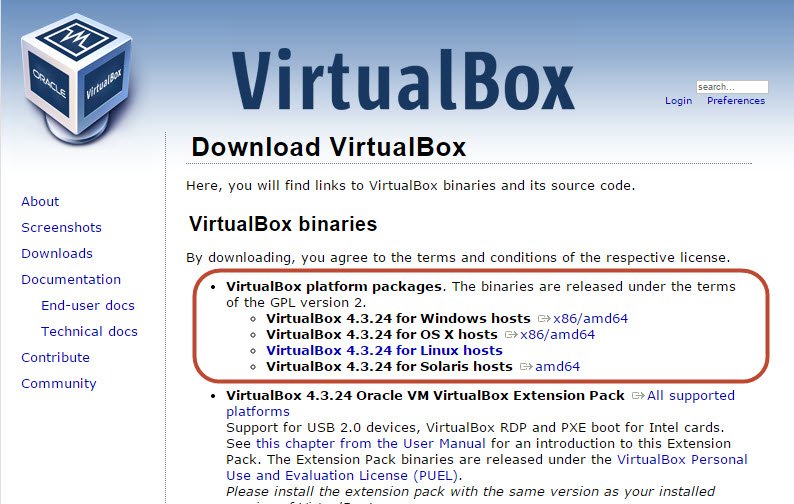 Download and install CirtualBox on your computer.
STEP 1
1. Open VirtualBox. In VirtualBox, click the New button to start the virtual machine wizard.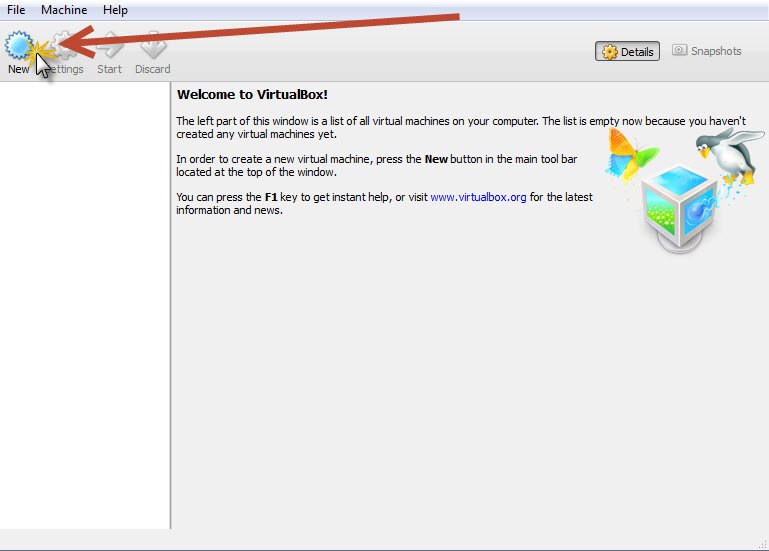 STEP 2
1. Give your virtual machine a name (Starkit)
2. Then, choose an operating system, choose Linux and Version: Ubuntu 64 bit.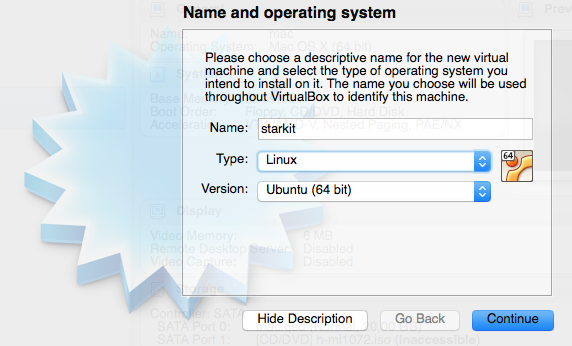 STEP 3
Choose memory size allocated. If you wish to test then just add 2GB of RAM.
For a running stable environment we recommend you use at least 8GB. For best performance 16GB of ram is recommended.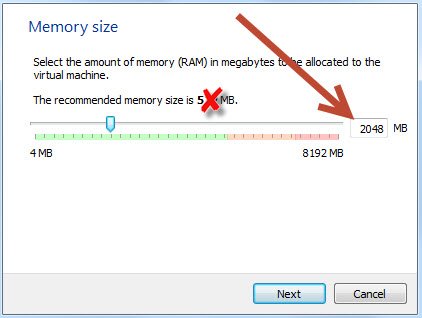 STEP 4
Choose Hard Drive. Create a new virtual hard drive.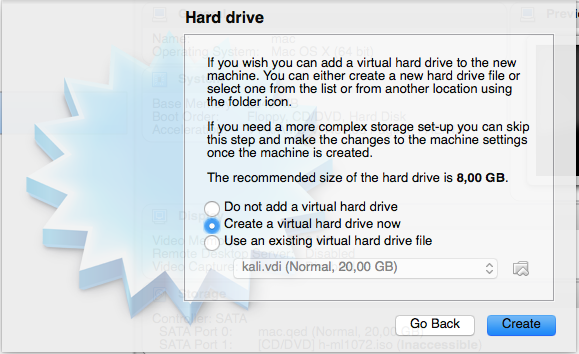 STEP 5
You can select any type of virtual hard drive. You must know any limitations you may face when choosing the right virtual hard disk. If you don't know what to select leave the first option VDI (VirtualBox Disk Image)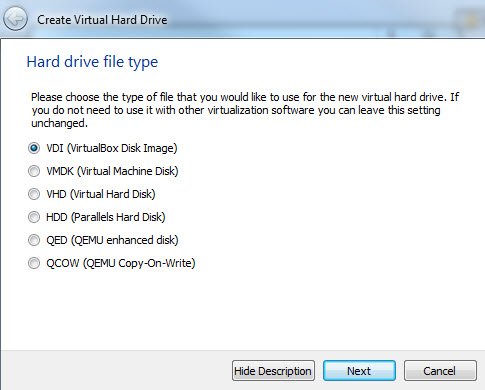 STEP 6
Select Dynamically allocated disk size, this way you will only use the space needed.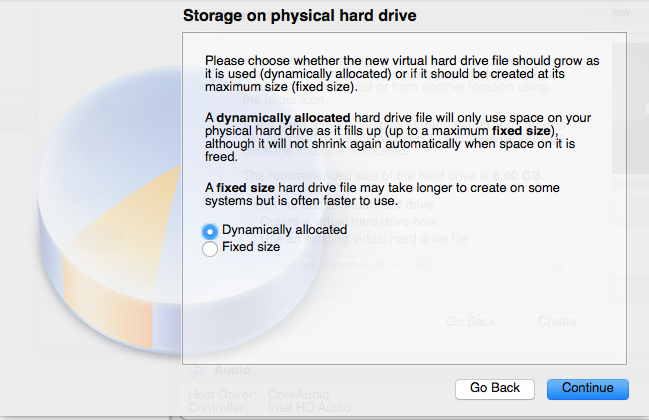 STEP 7
Select disk size. For testing anything more than 50GB is fine. If you wish to use this Starkit virtual machine in the long run we recommend to select 500GB or more depending on the amount of your data.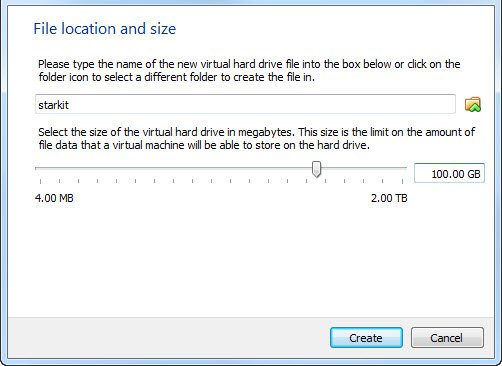 STEP 8
Mount the Starkit ISO on your VM you just created.
Select your new virtual machine. Once you've done this, click the Settings button.
1. Click Storage tab
2. Click on the CD icon on the left
3. Once you click the CD icon on the left you will see on the right under the Attributes section a drop down with another CD icon. Click on the CD icon and select the option Choose a virtual CD/DVD disk file…
4. From the pop up select your Starkit ISO file to mount.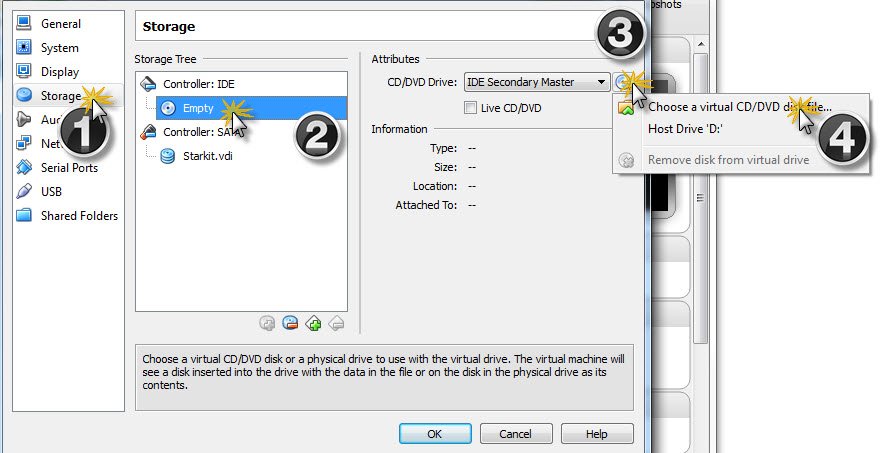 Once done you will see the name next to the CD icon on the left will change to Starkit.iso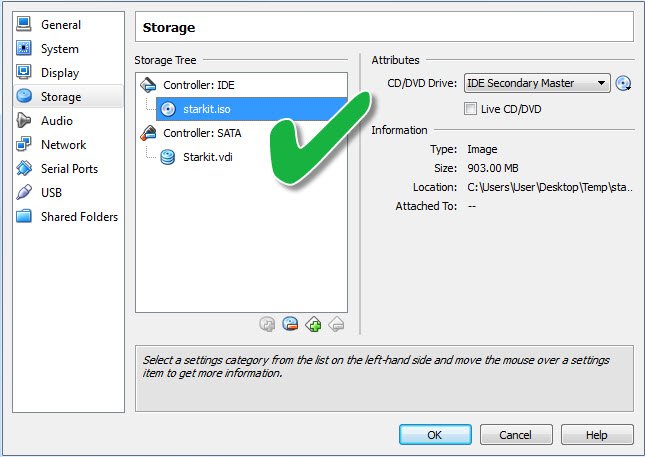 STEP 9
You also need to configure your VM to get an IP from your network.
1. On your VM settings window select Network tab
2. Select "Bridged adapter*
3. Click OK to save your settings.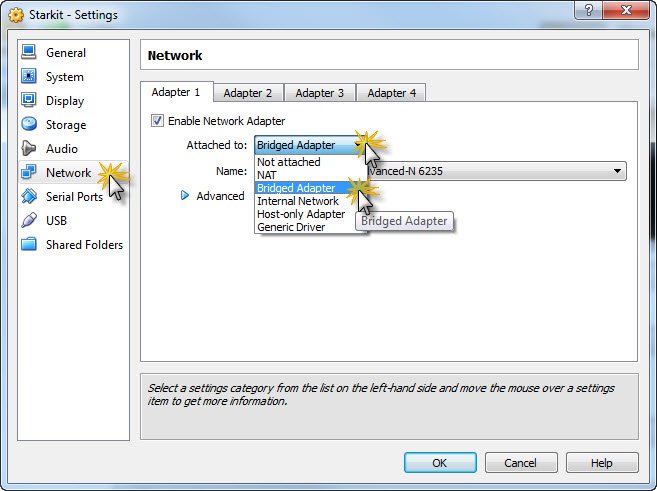 STEP 11
You may now close the settings window and return to the main window. You Starkit machine is ready to boot now.
1. Select your virtual machine. Then click the Start button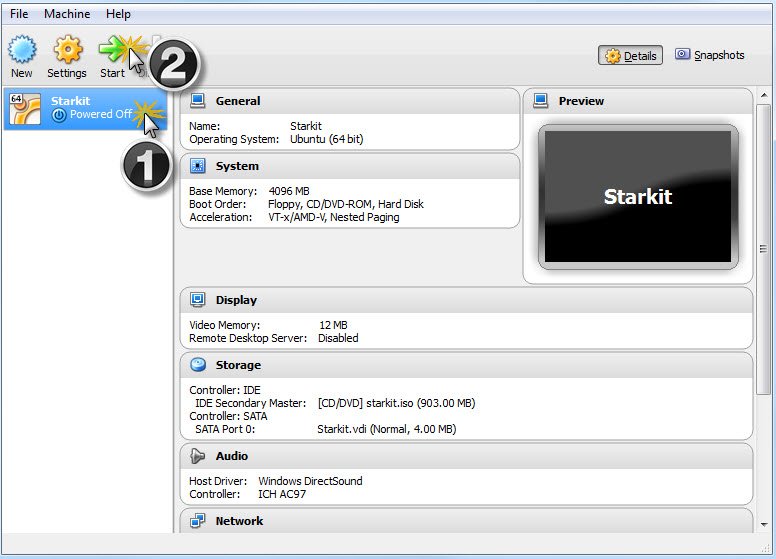 Starkit Virtual machine will start in a separate window.
STEP 12
When VM Starts you will see the Starkit installer screen.
Select the first option Install Starkit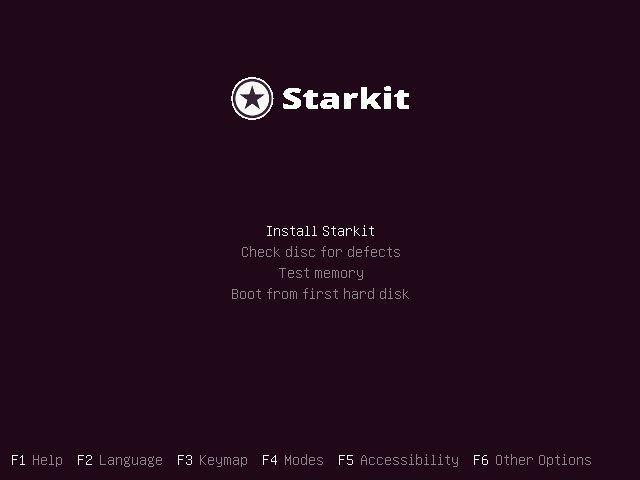 Starkit will configure your network settings automatically and will connect to the internet. Usually, automatic network configuration works for 99% of the cases. If your network does not support DHCP you will be asked to configure your network settings manually.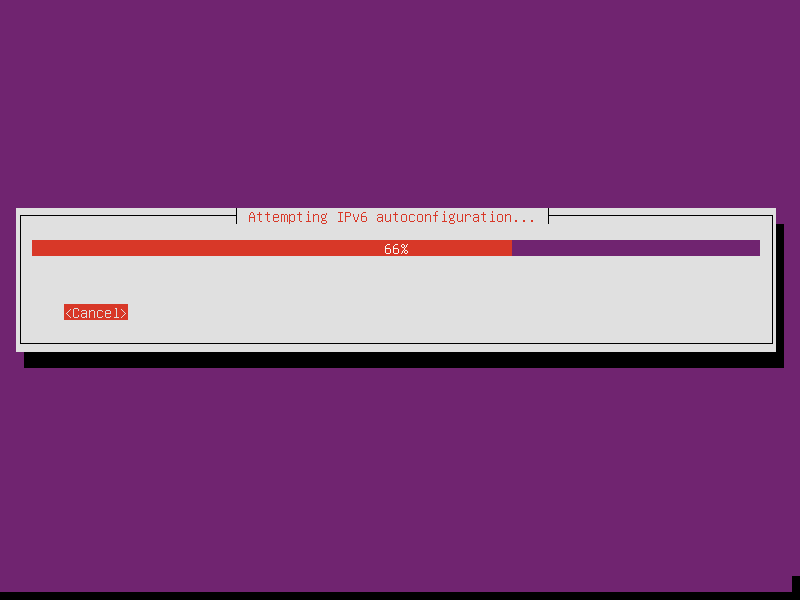 STEP 13
Set up user and password. This is the user who will have access to the operating system via command line. Write down and keep it in save in case you will be asked for it in the future if you request support that requires access and support via command like interface.
Enter full name or real name for the new user, then select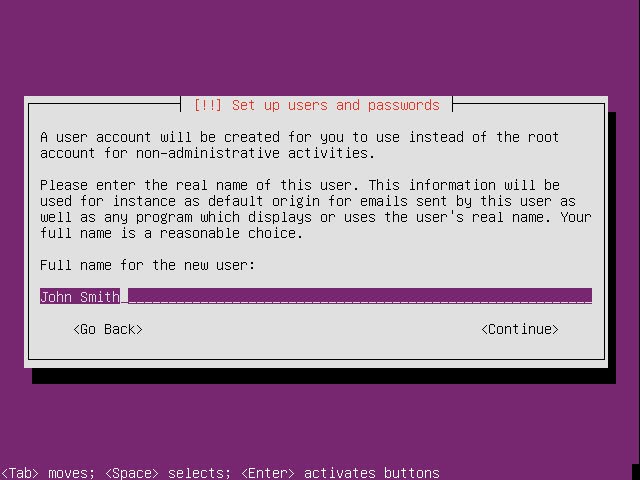 Enter username, then select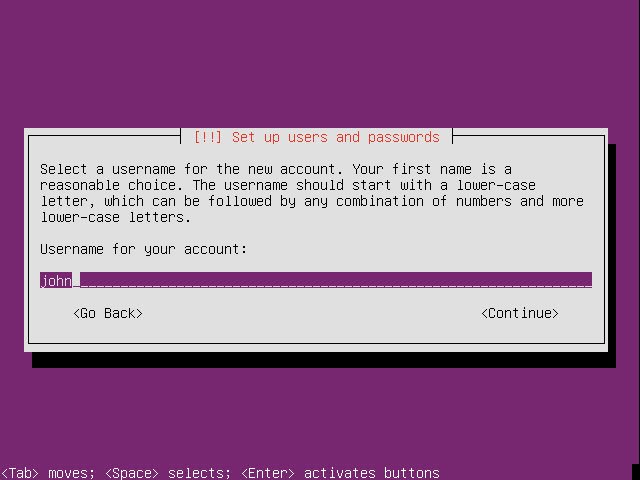 Enter password,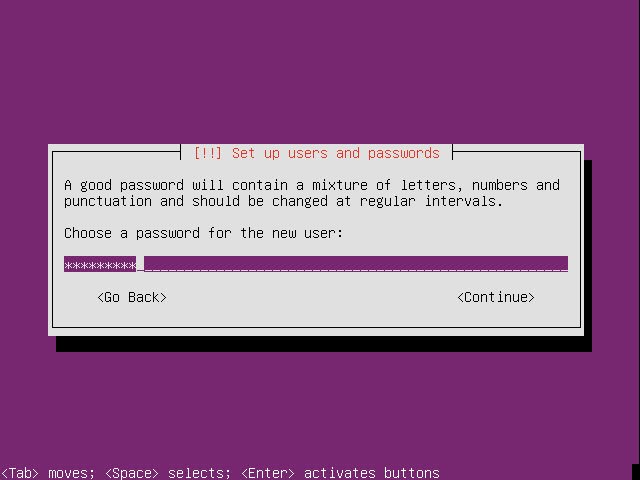 Re-enter password for confirmation and then select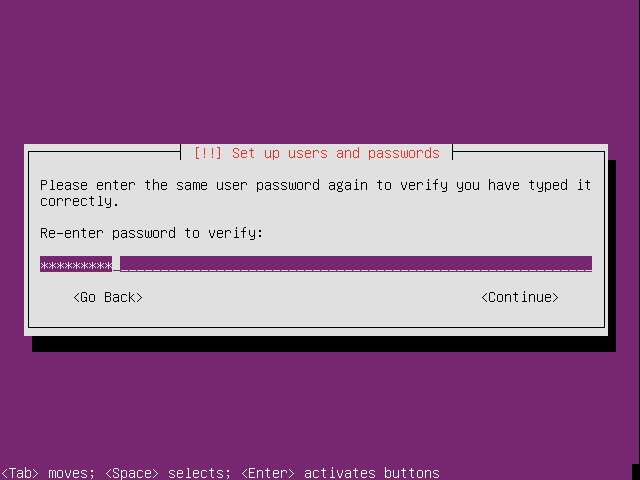 When basic Linux operating system installation is complete, the appliance will restart and you will see the Starkit packages installation progress screen.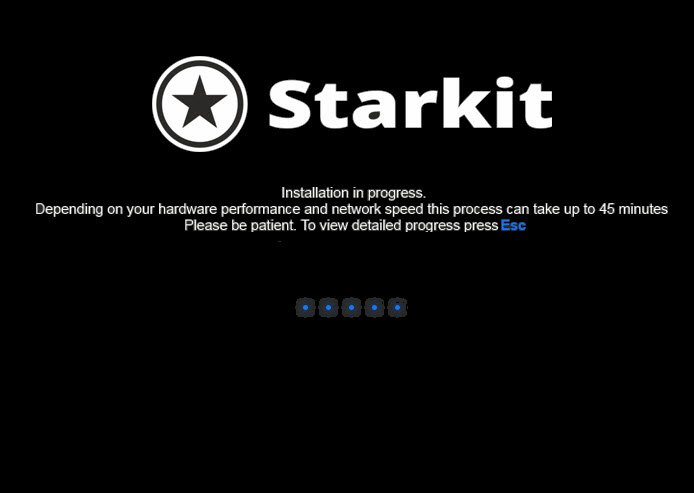 Depending on your hardware performance and network (internet) speed this process can take up to 45 minutes. On a typical 10Mbit line it will take approximately 25 minutes.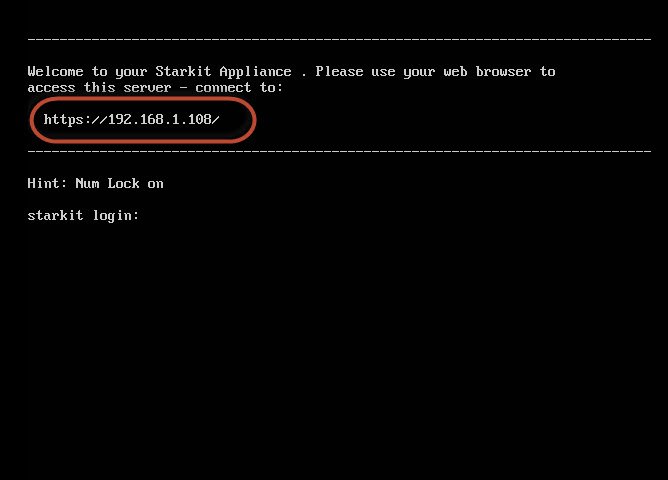 When installation is complete you will see a screen showing your Starkit Appliance IP address. This looks like the following example
https://192.xxx.xxx.xxx
CONGRATULATIONS! INSTALLATION IS COMPLETED!
Use this URL on any web browser using any computer on your network to access the Starkit web interface to complete the setup of your Starkit Appliance and activate it with your license key. You are almost done. Here is what to do next:
Setting up and activating your Starkit
What does it mean "Installation step failed?"
If you see the following error during installation please check your network settings. That means that the installer can't connect to the internet and is unable to download the packages needed for the installation.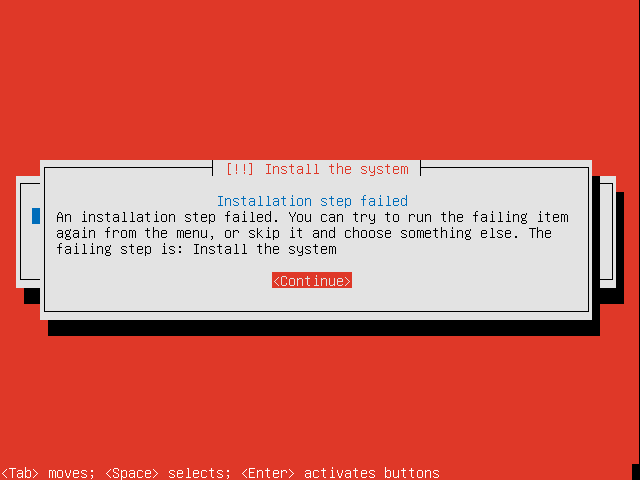 Feedback
Thanks for your feedback.