In order to have email delivered to your users' Starkit inboxes, you need to update your domain to route email messages through Starkit built-in mail server. To configure your domain, you use the administration console for your domain to create mail exchange (MX) record that point to your Starkit mail server.
To create MX records for a domain log in to the administrative console for your domain and locate the page from which you can update the domain MX records. You may need to enable advanced settings.
Add an MX record that will point to your Starkit IP. This is your Starkit domain which was created when you set up your Starkit account and has the format xxxx.starkit.me
The following image shows an example how to find your MX record:
Use the option About under My Starkit on the left accordion menu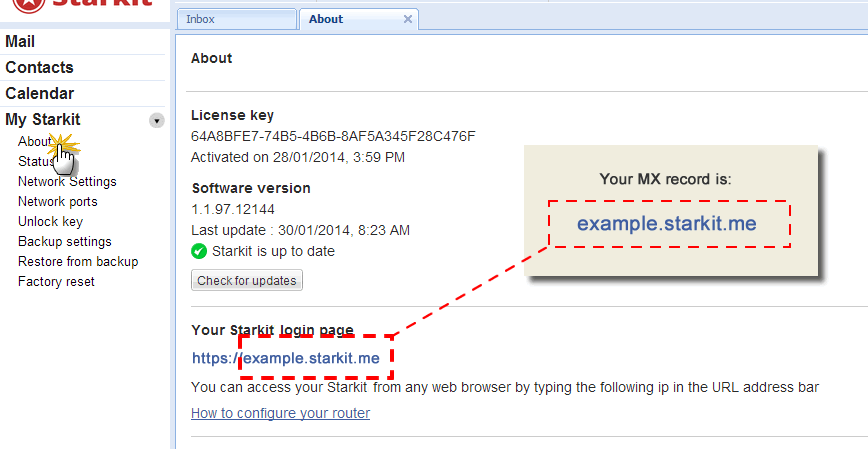 Note that many domain providers also require a trailing period at the end of the server name.
Set the priority for the record. MX records with a lower number have higher priority than MX records with a higher number. Different domain hosts use different priority numbering systems. Regardless of the system, the important fact is the relative priorities of MX records.
If your domain provider enables you to set the Time to Live (TTL) value for the record, set it to 300 seconds.
Keep in mind that changes to MX records may take up to 24 hours to propagate throughout the Internet.
Feedback
Thanks for your feedback.