To share your calendar with specific users, follow the steps below.
1. In the calendar list on the left, move your mouse over the appropriate calendar and click the right drop-down arrow.
2. Click on the option Share Calendar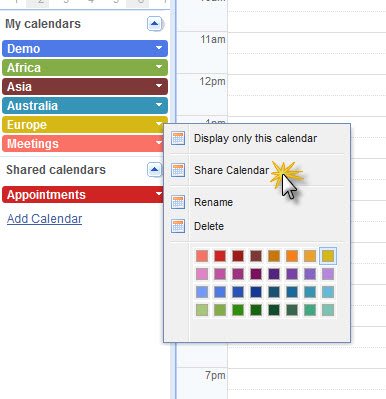 A new tab will open and you will see a list of all users in your organization
You can choose with who you like to share your calendar with. For each user you can click one of the three links available.
Allow full access
This person has full rights to this calendar and can add, edit and delete events, but cannot re-share the calendar with others.
Allow view and create access
This person can see all events but can only add new ones. This person cannot edit or delete events added by others.
Allow view only
This person can only view all events but cannot add, edit or delete any events

Feedback
Thanks for your feedback.