Types of event reminders:
Starkit calendar offers a variety of notification options for both email and SMS. You can set notifications for any of the following:
1. Email or pop up notifications to yourself (calendar owner)
a. On the edit event window, there are two drop-down lists options.
b. On the first drop down list, select the type of reminder
c. On the second drop down list, select how long before the appointment or meeting when you want the reminder to appear. To turn a reminder off, select None.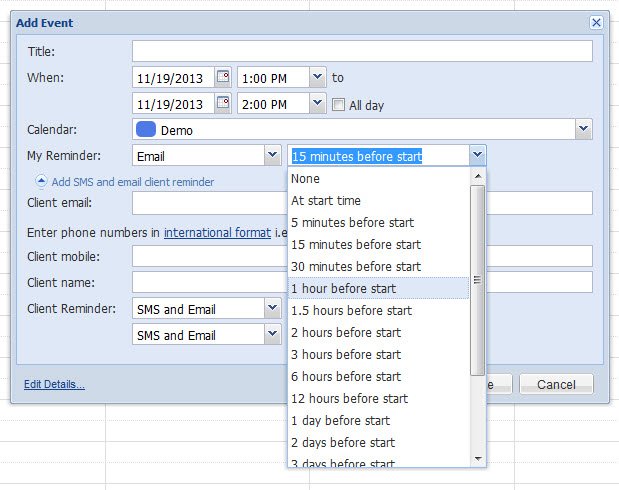 2. Email and SMS reminders to your client (or other event participant)
Starkit Calendar lets you send email and SMS reminders to your clients automatically: just schedule the appointment on Starkit's easy-to-use web calendar, type in the client's contact information, and Starkit will automatically send them text message reminders (via SMS) and email reminders as you specify.
a. On the edit event window, fill the email, name and mobile of the person you would like the reminder to be send to
b. You can send two sets of reminders in different times. i.e. one day before the appointment and a second one, two hours before the appointment.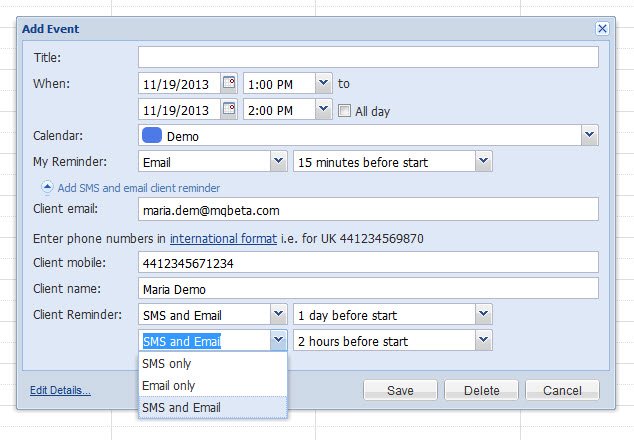 Feedback
Thanks for your feedback.