Edit > Crop Image
Crops the image to a sub-area of the previous image. Dimensions are listed as X: upper left corner, Y: upper left corner, with of crop box, height of crop box.
Draw
Click and drag in the Current Image viewer to manually select an area to crop. Double-click on the edge of the crop box when finished.
Center About Click
Click a point in the Current Image and enter X and Y dimensions to manually crop a box centered around your click.
1.

Size X

Size (in pixels) of the crop-box in the X-dimension (width)
2.

Size Y

Size (in pixels) of the crop-box in the Y-dimension (height)
Enter Dimensions
Enter the desired crop box dimensions to manually select and area to crop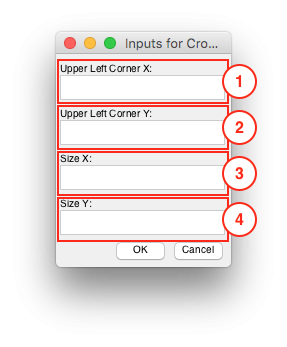 1.

Upper Left Corner X

X-coordinate location (in pixels) of the upper left corner of the crop-box
2.

Upper Left Corner Y

Y-coordinate location (in pixels) of the upper left corner of the crop-box
3.

Size X

Size (in pixels) of the crop-box in the X-dimension (width)
4.

Size Y

Size (in pixels) of the crop-box in the Y-dimension (height)
Auto
Crops the image to the perimeter of the features nearest to the image edges